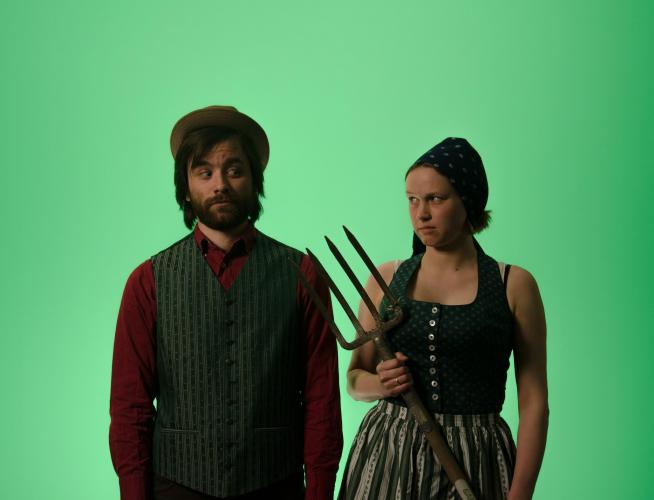 Picture-a-Farmer: Farmer Photobooth
Try on different (often stereotypical) ideas of food providers, and explore some of the issues related to these stereotypes in the photo booth. Bat of Minerva food videos will play in relation to what's happening in the photobooth, and will provide opportunities for participants to enter their explorations into the Field Guide to Food Systems.
Many peoples' perceptions of farmers are derived from second-hand sources such as newspapers, advertisements, television, and film. This detachment from farming results in a wide range of perceptions of who produces our food. These images are not idle or politically neutral, but rather shape the development of food and farming futures. We seek to capture these diverse images of farmers and to understand their construction.
Using a photobooth with props borrowed from social science research on social perceptions of food and farming, we create a space for people to express their image of farmers and to engage with others' portrayals to explore and come to understand what hats farmers wear.
Facebook page: www.facebook.com/frameAfarmer
Valentin Fiala is a PhD student at the Division of Organic Farming at the University of Natural Resources and Life Sciences, Vienna (BOKU) and a proud member of this working group.
Milena Klimek MSc is a doctoral candidate focusing on food and farming issues and more specifically on the role of values in the farmers' markets of Vienna and Minneapolis, Minnesota.
Rebecca Paxton is currently conducting doctoral research in the Department of Sustainable Agricultural Systems at the University of Natural Resources and Life Sciences in Vienna, analyzing how Austrian organic farmers define and practice health in their work and daily lives.
Peter Shea created Bat of Minerva, a regional cable television show based in the Twin Cities that engages people in conversation about their lives and ideas. He describes the show as a place to provoke discussion among adults and obtain pleasure from conceptual conversation.
Valentine Cadieux explores social and spatial relationships in the governance of land use and food and the politics of sustainability. Using art and social science approaches to society–environment relations (specifically, the political ecology and moral economy of agrifood systems), she builds publicly engaged participatory research processes to promote support differing ways of understanding environments and performing and justifying environmental and food system interventions.