Volunteer for Northern Spark—June 13, 2015
Want to help make Northern Spark 2015 happen? If you love interacting with people and being the go-to person for fun facts and details, volunteering for Northern Spark is the thing for you.
Festival volunteers are needed to help direct visitors and answer their questions, survey people about the festival experience, and collect visitor donations. Shifts are scheduled in three-hour time slots from 6 pm until 6 am.
We also need volunteer help before the festival for pre-festival outreach events, office tasks and at special events including the launch party and the after-festival pancake breakfast.
We work hard to make sure you have all the information you need to easily complete your volunteer shift and have a fun experience, too.
All Northern Spark volunteers are required to attend one of the hour-long orientation sessions taking place on weeknight and weekend mornings in late May and early June. At orientation, you will receive a detailed information packet and meet other volunteers. Optional walking tours of festival zones will follow each scheduled orientation. Check back for a list of dates and locations.
Volunteers will receive a free T-shirt and invites to special NS events, and have access to Volunteer Central, where you can hang out and grab a snack before, after, or in between shifts.
If interested you can sign up here, or email us at volunteers@northern.lights.mn.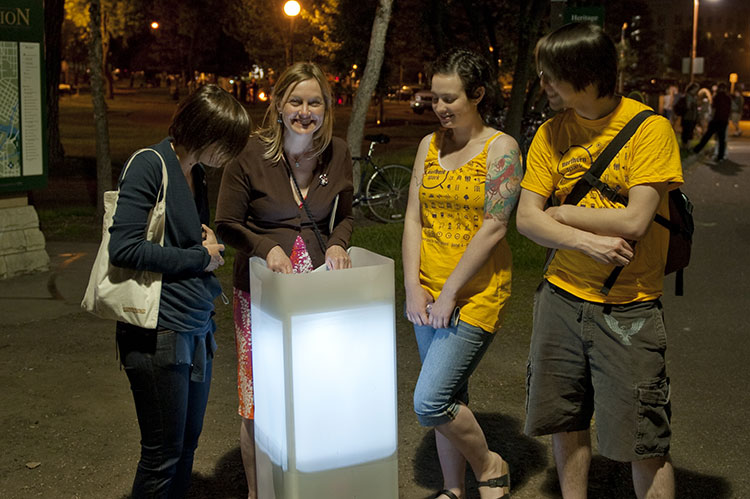 Festival Volunteer Roles
More than two hundred outgoing volunteers are needed to make the festival happen. Here's how you can get involved:
Info Hub
Volunteers stationed at these locations around the festival are rock stars of information. Information Desk volunteers give information about Northern Spark art and events to festival goers.
Survey Seekers
Love talking to people about their opinions? Survey Seekers talk to the public and collect feedback about the festival experience.
Roving Info Guide
One of the most versatile volunteers, Info Guides are stationed across festival zones to provide information and to help with the flow of festival foot traffic. Info Guides deliver on-site information to festival goers about schedules and area events, give directions, and distribute programs. You may help out at the Launch Party, track attendance, or direct traffic for specific, timed events throughout the night.
Sparker Barker
Sparker Barkers encourage visitors to contribute to Northern Spark's continued success through monetary donations. Donors receive a Northern Spark toy sparker as a token of our appreciation.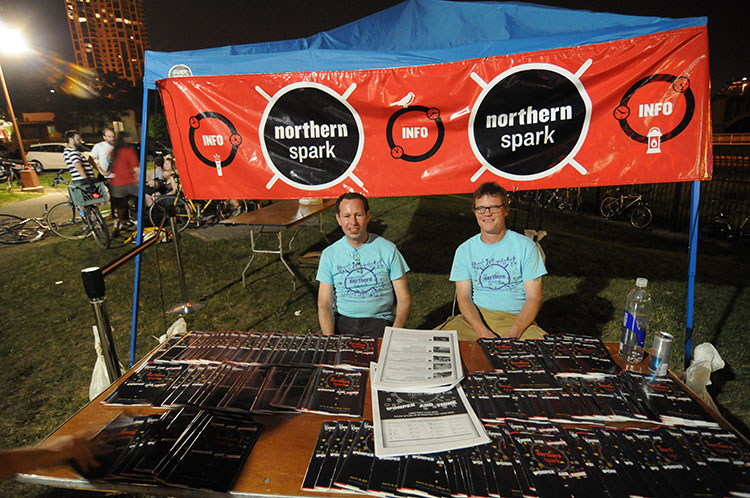 Other Volunteer Opportunities
Festivals happen, private parties are planned, and sometimes we need help with administrative tasks.
Pre-Festival Outreach
We need fantastic volunteers to spread the word about Northern Spark at spring festivals such as MayDay in Powderhorn Park. If you love crowds and are interested in telling the world about Northern Spark, this is the gig for you.
Office Help
As we ramp up for the festival in June, we may need a few extra people to complete office projects, assist with check-in at volunteer training, and coordinate special pre-festival artist events.
Resources
Be the best, most knowledgeable volunteer you can be by doing your homework!
Get familiar with the features of each festival zone, read "Arts & Events" on the Northern Spark website, and join the Northern Spark Volunteers Facebook group. You can also sign up to receive the Northern Spark newsletter or download the Northern Spark app (coming this spring).
Questions?
Contact Volunteer Coordinator Monica Sheets at volunteers@northern.lights.mn.