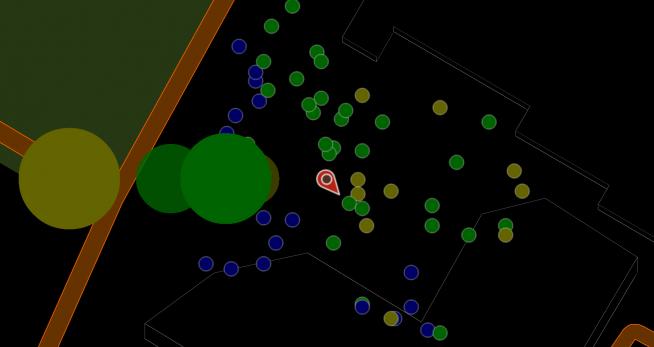 At the You Are Hear installation, the virtual tracks are like walking through a forest of beats and melodies. Art courtesy Richard Mueller.
You Are Hear
Experience the interactive 3D soundtrack of Northern Spark! Bring headphones and walk among a forest of glowing balloons, each an instrument in a song mapped to a virtual 3D soundscape and light show at YouAreHear.org. Listeners can add their voice to the music with a virtual soundboard, and play along with everyone else participating nearby. Engage with You Are Hear at one or both locations—Peavey Plaza and Mill City.
How to Get Plugged In
Where are you? You're at Mill City and spy a colorful glowing balloon hovering in the air above you. You put your headphones on and visit YouAreHear.org on your smart phone. Music fills your ears in a three-dimensional space, and as you turn around you can hear and see individual virtual sounds and shapes all around you that correspond with each balloon, some closer and louder, others further away and quieter. You also see the closest participants on your screen, and hear their contributions emanating from their respective locations.
The songs blend together seamlessly throughout the virtual and real balloon forest, and everywhere in the city. Move forward and the Funk blends into an Afro beat and then into Dance. All over the city the virtual tracks are like walking through a forest of beats and melodies punctuated by the sounds created by collaborating nearby strangers. Everyone hears the same tracks, each from their own perspective.
A passerby looks at the crowd of quietly moving people. You hand them a pair of headphones and welcome a new instrument to the symphony. You know exactly where you are now. You are hear. Engage with You Are Hear at Mill City, Peavey Plaza, or in any other festival zone.
Richard Mueller is a Minneapolis artist and programmer interested in the interactive intersection of virtual and physical spaces.
Stefon BIONIK Taylor is a Minneapolis-based music producer/artist who has worked with artists such as: Aceyalone, Ice-T, John Martyn, Chali 2na and Lizzo. His music is also featured in many movies, shows, commercials and video games.