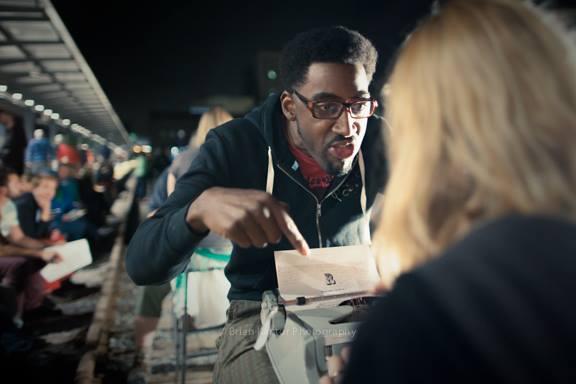 Write Fight, Northern Spark 2013, St. Paul. Photo: Brian Kantor.

Write Fight III
Write Fight returns for its third year! WF is a single elimination tournament pitting writers against one another on typewriters. The fun doesn't stop there. Revolver also plans disruptions, distractions and drama to test each contestant's concentration and mettle. This year, Write Fight III features a theme. The disruptions and prompt sentences will be based on Melville's epic novel, Moby Dick; or, The Whale.
Revolver is a literary arts organization that exists to transform process, (a)rouse creators, and provide engaged audiences for narrative-based artists.
Revolver team: Luke Finsaas, Ross Nervig, Lara Blackwood Avery, Thorwald Esbensen, Marcus Anthony Downs, Esther Porter, Alexander Helmke, Brennan Stavem, and Seth Berg.