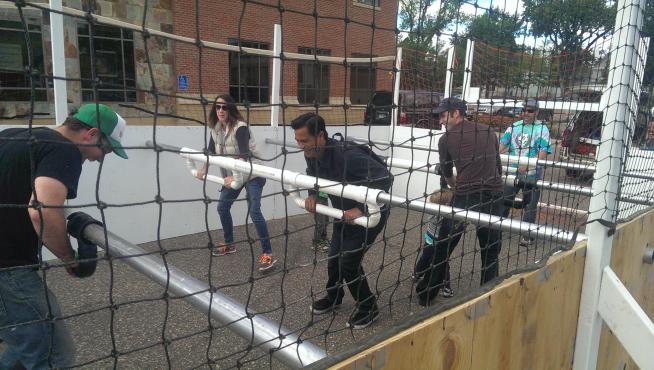 https://www.youtube.com/watch?v=LSYd39XT1DI
Tron Human Foosball
Tron Human Foosball is a scaled up, outdoor version of the classic table soccer game. Human players are "skewered" on court-wide rods that mimic traditional foosball and allow only lateral movement in pursuit of goal-scoring.
For Northern Spark, the 30-foot court and frame will be covered with a glowing grid inspired by the 1980s classic sci-fi film Tron.
Tron Human Foosball is presented by Can Can Wonderland, a new arts and entertainment venue opening Fall 2015 in St. Paul's Hamline-Midway neighborhood. Can Can aspires to be an arts-based Coney Island destination of sorts, featuring artist-designed mini golf, an art arcade, and unique programming including performances and arts activities.
Chris Pennington is a Learning Disabilities teacher, public artist, and newly minted entrepreneur. He is one of the partners of Can Can Wonderland.
Rob Clapp is an emerging outsider artist.
John Grider is a muralist and collage artist whose large scale work appears on several continents.
David Pitman is a conceptual artist, builder, and dreamer who has been a fixture in the Twin Cities art world forever.