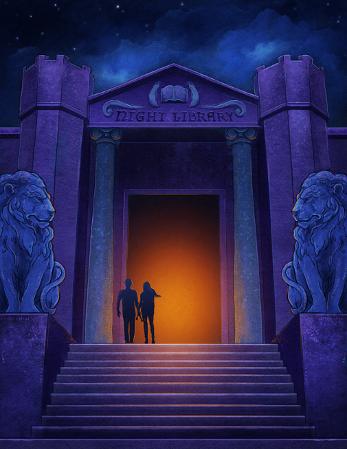 The Night Library. Image Morgan Hilber.

The Night Library
Grab your trusty book & flashlight, and venture into The Night Library! You've been chosen to embark on a quest to battle the villains of censorship. Choose your path wisely, or books will burn…
The Night Library is an interactive, labyrinthian maze experience set behind a library façade. Participants are given a book and a flashlight as they enter, which serves to guide them through the maze. Acting as the guardians of intellectual freedom, participants seek to ultimately get their book onto the shelf of the library. Along the way, they battle the villains of censorship, who try to lead them to a darker outcome, a world where books are destroyed, and ideas are suppressed.
Julian McFaul's use of cardboard as a medium for sculpture is unparalleled.
Mark Safford is one of the founders of BareBones Outdoor Puppetry and Performance Art Spectacles).
Artist team: Alicia Anderson, Christina Gehring, Elizabeth Hilber, Morgan Hilber, Ted Klyce, Jon Mac Cole, Amy McNally, Mark Safford, Cassie Warholm-Wohlenhaus, Anna Zillinger
Additional Credits: Hennepin County Library Teen Tech Squad, and Hennepin County Library Friends & Volunteers.