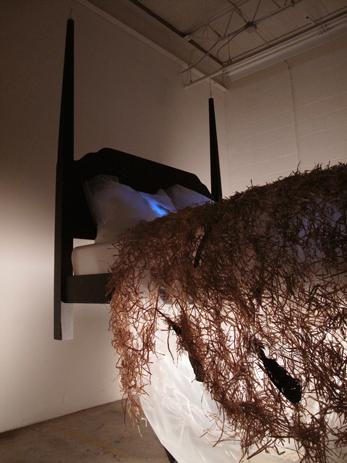 "Dream Window"—a bed/sculpture. Photo: Rebecca Krinke.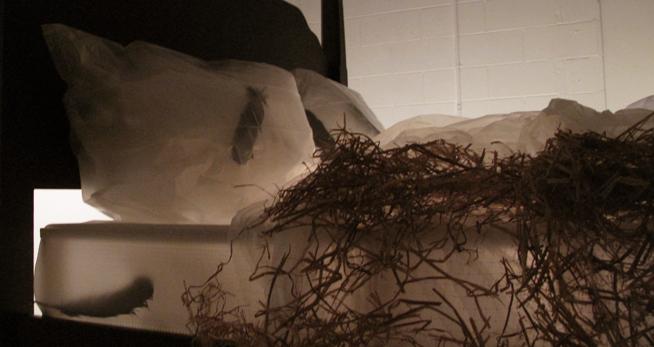 "Dream Window" detail. Photo: Rebecca Krinke.
Dream Window
Dream Window is a 4-poster bed sculpture installed among the girders of the Mill City Museum ruins. Suspended high above the courtyard, like some surreal animation from a dreamscape, it is a sight for wonder and a site of remembering in the middle of your all-night, Northern Spark reverie.
The bed is semi-transparent, illuminated from within, and composed of odd bedding materials such as black feathers and transparent fabrics. Check it out from below. Look at it from above. Gaze past it across the Mississippi River, the Stone Arch Bridge and St. Anthony Falls. What is your vision?
Throughout the night the artist and her team will create pages of their dream memories—and yours—and sew them together into a single, community dream book.
Rebecca Krinke is a multidisciplinary artist working across sculpture, installation, public art, and social practice. Her work asks questions about place and emotion – and ideas of private and public.
Research, production, documentation, & public engagement assistance: Olivia Lyster Alexander Heid Natalia Piela Addison Galagan Caleb Goodew