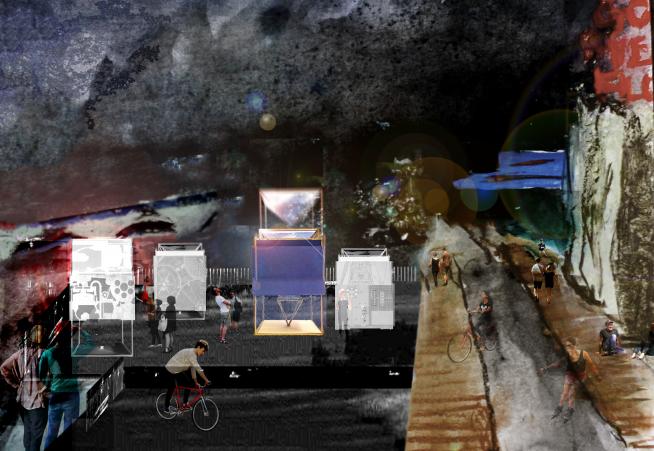 CityScope sketch. Courtesy the artist team.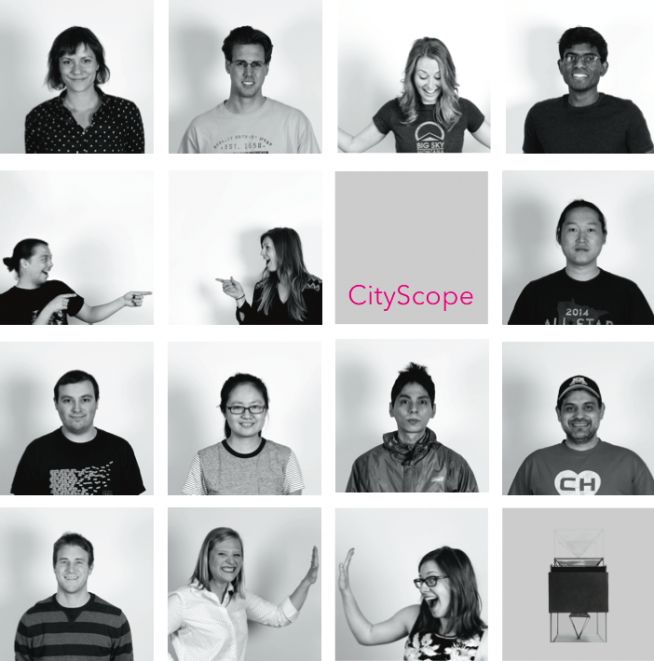 CityScope Team: Molly Reichert and UMN Architecture Graduate Students.
CityScope
Beginning with the elemental geometry of the cube, CityScope creates a field of whimsical follies that invite participation and new ways of seeing. While a central periscope projects your view to the city, the periphery structures recall the mechanical histories of the site. Through a kinetic counter-balanced system, the cubes can be lifted and entered, creating intimacy amidst the spectacle. Looking in and looking out, the structures present a new lens of observing the built environment.
The project is a result of a partnership between UMN School of Architecture and Minn_Lab, a collaborative of architects, landscape architects, and educators. Led by designer and educator, Molly Reichert, thirteen graduate architecture students developed the project during an eight-week studio course. Evolving the project through a tactile, iterative process of radical making, the students benefited from critique and counsel from Minn_Lab, guest artists, and technicians.
Minn_Lab is a team of designers seeking to better engage the design community within the broader arts community.
Team: Molly Reichert and UMN Graduate Architecture Students
Jeremy Bernardy, Jesse Campos, Takashi Chibana, Molly Dalsin, Keshika De Saram, Katie Loecken, Anna Mahnke, Sara Marquardt, Chris Massey, Patrick Moffett, Mir Noh, Kyle Palzer, and Ke Zhao.
Team: Minn_Lab
Marc Swackhamer (College of Design); Andrea J. Johnson (College of Design); Molly Reichert (College of Design); Robert Hunter (James Dayton Design); Aaron Wittkamper (Gensler); Ross Altheimer (Ten x Ten)
Project Sponsors:
University of Minnesota and James Dayton Design.