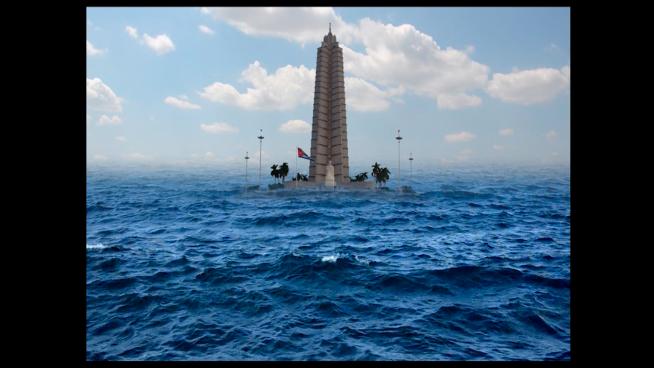 Liudmila Velasco, Nelson Ramirez, Absolut Revolution – La Isla, 2002-2012, Single channel video, 10 minutes (duration).

Absolut Revolution: La Isla
Join the revolution! And the U.S. premier of the video installation, Absolut Revolution: La Isla, by the Cuban artist team Liudmila Velasco and Nelson Ramirez. Their haunting video will be projected during Northern Spark. Drawing inspiration from Andy Warhol's famous silent film of the Empire State Building, Empire, the artists focus their camera on an obelisk-monument honoring Jose Marti, a writer and revolutionary who became a symbol of Cuban independence from Spain in the 19th century. Surrounded by water, the obelisk soars in isolation as a symbol for Cuba's more recent political history. The title and the visual image play on the Western advertising campaign for Absolut vodka.
Nelson Ramirez and Luidmila Velasco are a husband and wife artistic collaborative whose work was featured at the 55th Venice Biennale (2013). Ramirez is also the director of the Fototeca de Cuba.