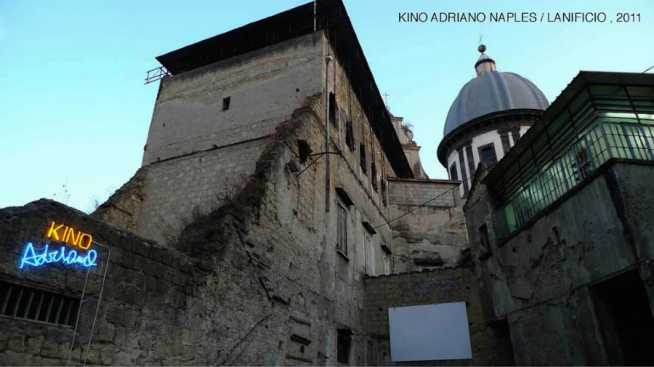 KINO Adriano, Naples 2011. Photo by SISKA.
Private film, Tunisia 1970s. Image by Franziska Pierwoss.
KINO Holly*ood
KINO Holly*ood is a temporary movie theater screening an all-night program of video works and private Super 8 and 16mm films. It is an on-site cinema-like installation investigating new and temporary locations and includes a ticket booth and a popcorn trolley cart.
Following an in-depth research of the Twin Cities' cinema history, KINO takes on the name of a former movie theater that was closed down, demolished, or transformed, as an act of memory but also as a way of reviving these theaters in the present. The neon sign of the respective cinema (KINO) is re-created and is used as a central physical reference.
The program of KINO features works on the city and the stories of her inhabitants. It reflects the particular nature of the Twin Cities that used to host over 100 cinemas, the cities' artists and amateur filmmakers, as well as family film treasures such as recorded birthdays, journeys, and garden parties.
The actual screening is more of a gathering rather than a strictly scheduled film session. In reference to the traditional news cinema the evening starts with a cartoon and the audience is welcome to come and go throughout the night.
The KINO project was initiated by visual artists Franziska Pierwoss & SISKA in 2009 in Beirut and has since travelled to Naples, Warsaw and Zürich.  Pierwoss is a performance and installation artist with a strong focus on durational performance and collaborative practices. SISKA's multidisciplinary work has a strong site-specific feature; find his work here.
Invited by Sandra Teitge, Curator & Director, FD13 residency for the arts.