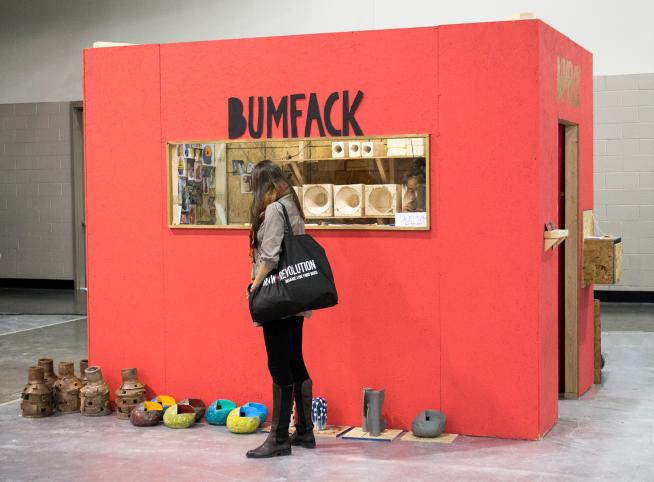 BUMFACK Co. Production Facility (2014 Installation). Courtesy artist.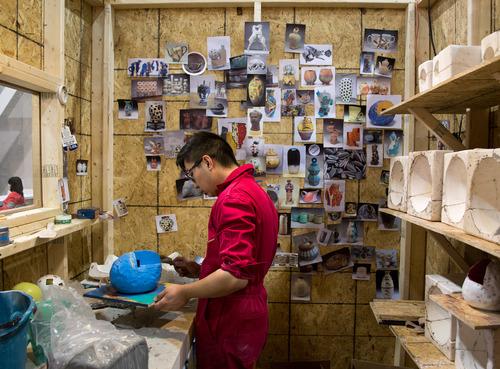 Collaborator Kevin R. Kao in the BUMFACK Co. Facility, 2014. Courtesy artist.
Bumfack Co.
BUMFACK Co.—Making the things you want, today!
BUMFACK Co. is a Chinese ceramic production sweatshop facility that specializes in (re)producing one-of-a-kind objects by famous artists. We offer a broad range of services that allow visitors to experience the thrill of the ceramic process: from pressing and molding wet clay, to our specially developed acrylic glazing technique. You (YES, YOU!) can walk away with your very own Ken Price, John Mason, or even Peter Voulkos ceramic object. BUMFACK Co.—Coming to a town near you!
Conceptually, BUMFACK Co. exists as an installation-performance that questions the relationship between authenticity, value, authorship and cultural expectations of making. By re-asserting ourselves as a Chinese sweatshop producing counterfeit non-permanent work, we force visitors to be complicit and aware about the significance of the hand-made object and its implications. Embracing a DIY aesthetic, the project incorporates an overt humor that functions as a gateway for audiences to think about these questions.
BUMFACK Co. is the corporate identity of collaborative artists Kevin Kao and Xia Zhang. Established in 2013 and headquartered in bumfuck nowhere, BUMFACK Co. offers a broad range of services that allow for an open dialogue on issues in contemporary ceramics. Our primary projects address copyright, cultural methods of production, value and "celebritydom" within the clay community. At our core, we explore the founding principles in object making: as artists, what makes what we do so special?
Thanks to our fantastic crew of NCC Volunteers!